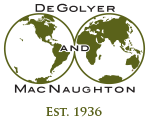 Consultoria Mundial de Petróleo e Gás

William W. Vail Jr.
William W. Vail, Jr. joined DeGolyer and MacNaughton in 2007 as a specialist in reserves estimations and appraisal reports. He has more than 30 years of practical industry experience covering numerous aspects of petroleum engineering.
Vail graduated in 1982 with a bachelor's degree in petroleum engineering from the University of Tulsa, and in 1993 he earned an MBA degree from the Darden Graduate School of Business at the University of Virginia. He is a licensed Professional Engineer in the State of Texas and the Province of Alberta, Canada. He is also a member of the Society of Petroleum Engineers and Society of Petroleum Evaluation Engineers.
Geographical Experience
Canada
China
Trinidad
United States: Appalachian Basin; Gulf of Mexico; Louisiana, Oklahoma, Texas; San Juan Basin; and Williston Basin
Topical Areas of Expertise
Financial valuation
Reserves reporting
SEC guidelines
Natural gas production
NI 51-101 guidelines
Unconventional resources
Coal bed methane assessment
Major Projects
With D&M, Vail has coordinated numerous acquisition projects involving financial evaluations and due diligence analyses. Typical assets involved in these projects include oil and gas wells, leasehold acreage, production facilities, gas gathering, processing and compression systems, overriding royalty interests, and marketing agreements. In addition, he generates annual reserves reports for various public companies in compliance with SEC and NI 51-101 guidelines.
Vail participated in the writing and editing of Monograph 3, "Guidelines for the Practical Evaluation of Undeveloped Reserves in Resource Plays," published in 2010 by SPEE.
Prior to working for D&M, Vail worked for domestic and international consulting firms specializing in reservoir engineering and operating companies such as Statoil Energy and Transco Exploration.
From 2001 to 2007, Vail was Director of Petroleum Engineering for Marshall Miller and Associates, a coal consultancy based in Bluefield, Va. He specialized in the application of petroleum engineering principles to coalbed methane projects emerging in Appalachia. One of his first major evaluations for the firm involved the CBM reserves determination and valuation results for the Oakwood Field, located in Buchanan County, Virginia and operated by Consolidated Coal.
Prior to 2001, Vail spent five years with Eastern States Exploration and Production Company, providing engineering analysis and field supervision of Devonian Shale wells drilled across Kentucky, Ohio, Virginia, and West Virginia.