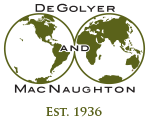 Consultoria Mundial de Petróleo e Gás

Mark N. Varhaug
Mark Varhaug joined DeGolyer and MacNaughton in 1998 after working for 24 years in exploration, development, evaluation, and appraisal. Prior to joining D&M, Varhaug worked for Cairn Energy USA.
Varhaug earned a bachelor's degree in geology from Southern Methodist University in 1974. He is a member of American Association of Petroleum Geologists, Geological Society of America, and the Society of Petroleum Engineers and is a licensed professional geoscientist in the States of Texas and Louisiana, as well as an AAPG-certified petroleum geologist. He is also a member of geological societies in Dallas, Houston, and West Texas. In 2018, he was appointed to the Texas Board of Professional Geoscientists. Varhaug was elected a Vice President of D&M in 2001.
Geographical Experience
Angola
Argentina
Australia
Bangladesh
Bolivia
Brazil
Chile
China
Colombia
Ecuador
Egypt
Guatemala
India
Indonesia
Malaysia
Mexico
New Zealand
North Sea
Pakistan
Papua New Guinea
Peru
Russia
Saudi Arabia
Thailand
Trinidad and Tobago
Tunisia
United States
Venezuela
Yemen
Topical Areas of Expertise
Geological mapping
Reservoir evaluation
Reserves estimation
Pre-salt reservoirs
Brazil onshore/offshore basins
Fractured reservoirs
Fluvial deposition
Turbidite environments

Major Projects
Worked with interdisciplinary teams to perform field studies and contingent and prospective resources assessments in Brazil, Mexico, Australia, China, and East Africa.
Performed geological studies and prepared in-place estimates for numerous multi-field projects in Bolivia, Brazil, Chile, China, Colombia, India, Indonesia, Mexico, New Zealand, Trinidad, Russia, and Yemen.
Performed field studies, estimated OOIP and OGIP, and assessed contingent and prospective resources potential in complex clastic, carbonate, and pre-salt environments.
Prepared reports on geological evaluations of unexplored and underexplored regions in the Caribbean and Latin America.
Evaluated reserves and contingent resources potentials of areas in the earliest stages of exploration and development in Brazil (onshore and offshore), Mexico, Colombia, Indonesia, and Guatemala.