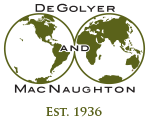 Consultoria Mundial de Petróleo e Gás

Vladimir N. Vasiliev
Vladimir N. Vasiliev joined DeGolyer and MacNaughton's Moscow office in 2017 as a reservoir engineer in the Reservoir Studies Group, specializing in reservoir simulation and development planning. Before joining D&M, he was a senior engineer for Novatek, Rosneft, and TNK-BP Technical Center. Vasiliev is an active member of the Society of Petroleum Engineers.
Vasiliev earned a bachelor's degree in physics in 2004 from the Ural State University and a master's degree in petroleum engineering from Heriot-Watt University in 2006. He is fluent in Russian and English.
Geographical Experience
Topical Areas of Expertise
Well performance analysis
Simulation modeling
Well-test analysis
Well completion design
PVT, SCAL, and core studies
Major Projects
Vasiliev has conducted several studies for major Russian oil and gas companies. He coordinates the work of a multidisciplinary team for the Priobskoye field development optimization project. He also has oversight responsibilities for the preparation of the Reservoir Studies Department reports in Moscow.