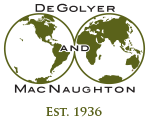 Consultoria Mundial de Petróleo e Gás

Dmitry V. Vasilyev
Dmitriy Vasilyev joined DeGolyer and MacNaughton's St. Petersburg office in 2017 as a member of the Reservoir Studies Division. Before joining D&M, Vasilyev worked as a wireline field engineer, petrophysicist, and technical team leader at Schlumberger WireLine and PetroTechnical services.
Vasilyev earned bachelor's and master's degrees in geology from Novosibirsk State University in 2009. He is a member of the Society of Petroleum Engineers.
Geographical Experience
Canada
Kazakhstan (Caspian Basin)
Russia (Timano-Pechora and Volgo-Ural regions, West and East Siberia)
Topical Areas of Expertise
Log quality control
Wellsite operations
Well integrity
Petrophysical analysis
Interpretation of wireline advanced logging measurements
Interpretation of LWD data
Integration of core and logs for formation evaluation
Major Projects
As a member of the Reservoir Studies Division, Vasilyev closely collaborates with clients by providing technical support and petrophysical interpretation of logs and core data. Vasilyev is capable in both deterministic and probabilistic petrophysical analysis of standard and advanced logging tools.