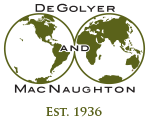 Consultoria Mundial de Petróleo e Gás

Christopher J. Wayne
Christopher J. Wayne joined DeGolyer and MacNaughton in 1984 after nine years with Mobil Oil Company, Superior Oil Company, and Cenergy Exploration Company.
Wayne earned a bachelor's degree in geology from State University of New York in 1973 and a master's degree in geology from Florida State University in 1975. Wayne is a licensed petroleum geologist in the State of Texas, a certified petroleum geologist by the American Association of Petroleum Geologists, and has been an active member of AAPG for 40 years. He has presented papers to several major geologic societies. He was elected a Vice President at D&M in 1986.
Geographical Experience
Argentina
Australia
Brazil
Canada
Chile
Colombia
Ecuador
Indonesia
Kuwait
North Sea
Peru
Thailand
United States
Venezuela
Topical Areas of Expertise
Structural analysis
Stratigraphic analysis
Deepwater deposition and turbidites
Development of heavy oil projects
Major Projects
With D&M, Wayne led the geologic effort on multidisciplinary teams that evaluated the Roncador, Marlim, Marlim Sul, Marlim Leste, Barracuda, and Caratinga fields in the Campos Basin. The main reservoirs for these fields are Tertiary and Cretaceous turbidites usually trapped by a complex combination of structural faulting and stratigraphic pinch-outs. He is an expert in the deposition and distribution of deepwater reservoirs. He uses petrophysical, geophysical, and geological aspects of turbidite reservoirs to create computer-generated grids used to estimate original oil in place and reserves. In addition to his work in the Campos Basin, he has evaluated exploration and producing properties in every other major producing basin in Brazil.
Wayne has evaluated exploration and production properties in every major producing basin in Colombia and Argentina. These include the prolific Llanos, Upper, Middle, and Lower Magdalena, and Putumayo Basins in Colombia and Neuquen Basin in Argentina. Wayne has also evaluated areas in the Orinoco heavy-oil belt in Venezuela, including stratigraphic analysis of the Oficina Formation. He has worked with Lagoven and Corpoven in evaluating heavy-oil fields and prolific fields in the El Furrial trend. Wayne served as an expert in a major arbitration hearing between two independent Argentine oil companies. He investigated the surface, subsurface, and geophysical attributes of the Northwest Basin and advised an Argentine legal tribunal regarding technical merits.