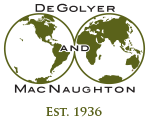 Consultoria Mundial de Petróleo e Gás

Matthew L. Wilson
Matthew L. Wilson joined DeGolyer and MacNaughton in 2007, and offers expertise in geologic resources assessments. Before joining D&M, Wilson served as an intern at Samson Resources in Tulsa, Oklahoma. Working within an integrated, East Texas development team, he gathered and input geologic and historical data to assess and identify drilling prospects away from established fields to generate future areas of exploration.
Wilson received a bachelor's degree in geology, along with a minor in Spanish language in 2004. He earned a master's degree in 2007 from the University of Arkansas. He is licensed as a certified professional geoscientist by the State of Texas. He is active within the Dallas Geologic Society and was re-elected treasurer in 2009. A member of the American Association of Petroleum Geologists, Wilson was co-chairman of the 2010 Southwest Section Meeting.
Geographical Experience
Argentina
Australia
Chile
China
Colombia
India
Indonesia
Malaysia
Mexico
Pakistan
Peru
United States
Venezuela
Vietnam
Topical Areas of Expertise
Calculating reservoir volumes using 3-D computer modeling
Developing geologic models
Core analysis
Petrologic analysis
Cross-sectional construction
Major Projects
Wilson is experienced in estimating reservoir volumes through geologic modeling of subsurface data. He has evaluated reservoirs in all types of depositional environments and basins. He is proficient in traditional geologic practices, including core analysis, reservoir description, petrologic analysis, log correlation, and cross-sectional construction, as well as various mapping methods.