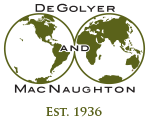 Consultoria Mundial de Petróleo e Gás

Dr. Jeffrey S. Wingard
Dr. Jeffrey S. Wingard is a seasoned reservoir simulation engineer, joining DeGolyer and MacNaughton in 1999. Prior to that, he spent 10 years as a reservoir engineer for affiliates of Atlantic Richfield Corp. Wingard has been responsible for a variety of simulation projects using black-oil, compositional, and thermal simulation models.
Wingard received his doctorate in petroleum engineering in 1988 from Stanford University. He earned a master's degree in mechanical engineering from Stanford in 1981 and a bachelor's degree in chemical engineering from the Massachusetts Institute of Technology in 1980. A member of the Society of Petroleum Engineers, Wingard is a licensed petroleum engineer in the State of Texas. He was named a Vice President at D&M in 2001.
Geographical Experience
Alaska
Algeria
Brazil
California
Ghana
India
Kuwait
Russia
Topical Areas of Expertise
Reservoir engineering
Portfolio uncertainty analysis
Gas flooding techniques
Miscible EOR projects
Heavy-oil projects
Unconventional resources evaluation
Major Projects
Wingard was involved with a countrywide evaluation of long-term recovery potential in Kuwait. Primary responsibilities included the development of simulation models for forecasting long-term recovery potential from both clastic and carbonate reservoirs and oils ranging from 14 to 35 API using secondary and tertiary recovery methods.
For a giant oil field in Algeria, he examined options for the co-development of a tight horizon in a currently producing field.
He was involved in a company portfolio analysis for a major Russian oil company where hundreds of fields, ranging from mature fields to exploration prospects, were analyzed and ranked to optimize capital investment.
Wingard's experience in Western Siberia includes three completed development planning studies on fields for two major oil companies in the Russian Federation. These studies were used successfully by the companies to meet the Russian reporting requirements and to secure development licenses.
From 1988 to 1998 with ARCO, Wingard conducted a number of simulation studies and was instrumental in the development of novel forecasting tools for a number of fields around the world. He was responsible for full-field development planning of a miscible gas-injection project in Algeria, integrating diverse data into a consistent reservoir description. He specialized in reservoir characterization and thermal simulation of heavy-oil fields in California and Alaska and developed a special tool to forecast miscible gas flood for ARCO's Prudhoe Bay Unit that is still in use today.