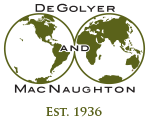 شركة استشارات البترول العالمية

Gustavo J. Fernandez
Gustavo "Tuta" Fernandez joined DeGolyer and MacNaughton in November 2021. Prior to joining D&M, he worked for Chevron in Argentina, Houston, and Brazil for 16 years.
Fernandez earned a bachelor's degree in petroleum engineering from the National University of Cuyo, Argentina in 1996. He is a member of the Society of Petroleum Engineers.
Geographical Experience
Africa
Argentina
Brazil
Colombia
Kuwait
Saudi Arabia
United States
Venezuela
Topical Areas of Expertise
Reserves and resources evaluation and estimation
Oil and gas reservoir engineering
Reservoir simulation
Unconventional resources
Volumetric calculations
Reservoir characterization
Waterflooding design, operation, and optimization
Major Projects
Since his arrival at D&M, Fernandez has conducted reserves evaluations for clients in Latin America in accordance with the United States Securities and Exchange Commission (SEC) and the Petroleum Resources Management System (PRMS) for conventional and unconventional reservoirs. He has estimated oil and gas reserves using standard engineering methods such as decline-curve analysis, volumetric calculations, reservoir simulation, and production-performance analysis.
Prior to joining D&M, Fernandez acted as Reserves and Reservoir Management Advisor for Chevron's Latin American Business Unit, responsible for reserves approvals, internal peer reviews, and business plan assurance in the region. He also worked as Loma Campana Technical team leader, providing technical approvals of operator work plans and budgets, drilling and completion campaigns, facility designs, and budget and operation expenditures. He was responsible for a waterflooding project with more than 700 active wells in Argentina.
Other roles at Chevon included reserves coordinator, business plan and project manager in Brazil, Lead Reservoir and Simulation Engineer for the South Africa Business Unit in Houston, and Reserves, Waterflooding, and Simulation Engineer Consultant for the internal technology division in Houston.
Fernandez started his career as a petroleum engineer for YPF in Argentina, where he oversaw well intervention operations to complete and stimulate producers and injectors in one of the largest waterflooding fields in Argentina.