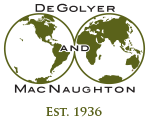 شركة استشارات البترول العالمية

Madison Hood
Madison M. Hood joined DeGolyer and MacNaughton in 2021 as a geologist in the Central Europe/Asia Division. Prior to joining D&M full time, Hood interned with the firm during the summer of 2019, working in the Reservoir Studies Division and the Central Europe/Asia Division. From 2019 to 2021, she worked as a research assistant at Baylor University, focusing on unconventional reservoir characterization and petrophysical log analysis of reservoirs in Canada.
Hood graduated from the University of Kentucky with a bachelor's degree in geological sciences in 2019 and Baylor University with a master's degree in geology in 2021. She is a member of the American Association of Petroleum Geologists, in which she served as student chapter president at Baylor University.
Geographical Experience
Canada
Kuwait
Russia
Ukraine

Topical Areas of Expertise
Petrophysical analysis
Reservoir characterization
Reserves evaluation
Subsurface mapping

Major Projects
At D&M, Hood's work includes probabilistic volumetrics in the Russian Federation and the Ukraine. Additionally, she has experience in petrophysical log analysis in Kuwait. She is skilled in the geoscience software tools Petrel and Petra.
Prior to joining D&M, Hood worked as a research assistant at the University of Kentucky focused on organic petrography, fly ash chemistry and rare-earth elements, and coal combustion of North American and international coal deposits.