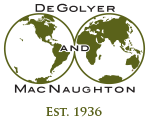 شركة استشارات البترول العالمية

Stephen V. Pierce
Stephen V. Pierce is Senior Vice President and CFO of DeGolyer and MacNaughton. In that role, he oversees the day-to-day financial and administrative operations of the firm as well as manages periodic activities related to tax and financial compliance in the many jurisdictions in which D&M operates. He joined D&M in 2004.
Prior to joining D&M, Pierce worked as an auditor for Ernst & Young LLP, with his primary concentration of clients in the energy, retail, and telecommunications sectors. Additionally, Pierce served as the controller for a medical device subsidiary of Pfizer Pharmaceuticals with worldwide distribution and manufacturing operations throughout central Europe. Finally, he served as Vice President – Finance for RealPage Inc., an industry-leading commercial property management software company.
Pierce graduated with honors from Oral Roberts University in 1993 with a bachelor's degree in accounting and from the University of Texas at Dallas in 2003 with a Master of Business Administration. A Certified Public Accountant in Texas, Pierce is a member of the American Institute of Certified Public Accountants.