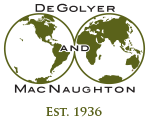 Worldwide Petroleum Consulting

Daniel Ariskin
Daniel Ariskin joined DeGolyer and MacNaughton in 2017 as a petroleum engineer specializing in the estimation and appraisal of reserves. Prior to joining D&M, Ariskin worked for several major international exploration and production companies as a reservoir engineer.
Ariskin graduated from Ufa State Petroleum Tech University as a petroleum engineer in 2007. In 2016, he received a master's degree in petroleum engineering from the University of Houston. He is a member of the Society of Petroleum Engineers. He is fluent in English and Russian
Geographical Experience
Kazakhstan
Russia
Ukraine
Topical Areas of Expertise
Reserves estimation and appraisal
Field development planning and optimization
Black oil simulation
Pressure transient analysis
Major Projects
Ariskin has carried out reserves estimations for oil and gas fields throughout Russia, Kazakhstan, and Ukraine.