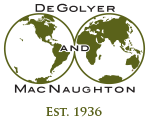 Worldwide Petroleum Consulting

Neha Bansal
Neha Bansal joined DeGolyer and MacNaughton in 2020 with a strong background in reservoir characterization studies. Prior to joining D&M, she worked at Anadarko Petroleum Corporation and Reliance Industries Ltd.
Bansal earned a bachelor's degree in petroleum engineering from the University of Petroleum & Energy Studies, India in 2008. She received a master's degree in petroleum engineering from Texas A&M University in 2013. Bansal is a member of the Society of Petroleum Engineers (SPE) and serves in various leadership roles at technical conferences and workshop committees. She is a member of the SPE Reservoir Advisory Committee and a technical reviewer for the Journal of Petroleum Science & Engineering. She was named a Vice President of D&M in 2022.
Geographical Experience
Africa
Colombia
India
North America
Topical Areas of Expertise
Numerical modeling
Analytical modeling
Fluid characterization
Integrated reservoir studies
Data collection program design
Major Projects
Bansal's recent projects include designing tools and workflows for optimized development recipes, application of new technologies in asset development practices, and leading training programs for unconventional reservoirs.
At Anadarko Petroleum Corporation, she managed the multidisciplinary Delaware reservoir characterization team. She was also technical and project lead on many development projects in central and asset technology roles.
At Reliance Industries Ltd. in India, she worked extensively on erosion design studies and deepwater well-test design and analysis.