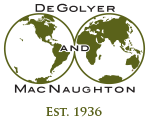 Worldwide Petroleum Consulting

Roman M. Belyavskiy
Roman M. Belyavskiy joined DeGolyer and MacNaughton in 2007 as a technical analyst, assisting in the evaluation of prospective resources in various geographic regions throughout the world.
Belyavskiy graduated from University of Texas at Dallas in 2006 with a Bachelor of Science degree. He is fluent in English and Russian.
Geographical Experience
Algeria
Angola
Argentina
Australia
Azerbaijan
Bangladesh
Bolivia
Brazil
Bulgaria
Canada
Chile
China
Colombia
Democratic Republic of Congo
Denmark
East Timor
Ecuador
Egypt
Equatorial Guinea
France
Gabon
Ghana
Guinea Bissau
Guyana
India
Indonesia
Iran
Iraq
Italy
Kazakhstan
Kurdistan
Kuwait
Liberia
Libya
Madagascar
Mauritania
Mexico
Mongolia
Mozambique
Niger
Nigeria
Namibia
Norway
Oman
Pakistan
Peru
Philippines
Poland
Portugal
Qatar
Romania
Russia
Saudi Arabia
Somalia
Spain
Sri Lanka
Thailand
Trinidad
Tunisia
Turkey
Uganda
United Arab Emirates
United Kingdom
United States
Uzbekistan
Venezuela
Vietnam

Topical Areas of Expertise
Prospective resources evaluations
Potential present worth modeling
Facilities planning
Major Projects
Working within the Reservoir Studies Division, he has evaluated exploration portfolios in over 60 countries. These estimations include the quantification of geologic and economic success and volumetric uncertainty utilizing probabilistic and quantitative risk assessment techniques.
Belyavskiy's prospective resources evaluation experience is focused on potential reservoir performance, development concept planning, and the assessment of facilities requirements and cost estimations for developments around the world. He maintains and executes D&M's potential present worth model, and quality controls all of the firm's appraisal prospective resources reports.