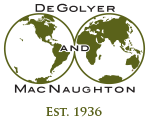 Worldwide Petroleum Consulting

Amit Y. Bhangale
Amit Y. Bhangale joined DeGolyer and MacNaughton in 2023, specializing in PVT modeling, reservoir simulation, enhanced oil recovery, production optimization, and reservoir management. Prior to joining D&M, Bhangale worked at PetroTel Inc.
Bhangale graduated with a bachelor's degree in chemical engineering from the Institute of Chemical Technology in Mumbai, India in 2004. In 2007, he earned his master's degree in petroleum engineering from the University of Alaska Fairbanks.
Geographical Experience
Algeria
Bahrain
India
Kurdistan
Malaysia
Oman
United Arab Emirates
United States
Topical Areas of Expertise
PVT modeling
Reservoir simulation
Enhanced oil recovery
Production optimization
Reservoir management
 Major Projects
At D&M, Bhangale history-matched production data for a giant oil field in Algeria with active gas injection in the gas cap. He built a compositional model to match 60 years of production history. He evaluated a business as usual case and the timing for blowdown of the field while maximizing the life of the facility.
Prior to joining D&M, he worked with PetroTel for over 15 years. Bhangale led PVT/EOS modeling studies for over 25 reservoirs located all over the world. He developed EOS for fluid types ranging from gas-condensate to light oil, volatile oil, and heavy oil. Most studies included multiple samples taken over multiple timeframes and gas injection studies such as slimtube MMP and swelling tests. He developed one EOS for each field that matched PVT data for selected representative samples.
Bhangale has worked on CO2 injection studies, which typically include production data analysis, history-matching field production and CO2 pilot data, selecting type-curve areas, running pattern simulations, and full-field CO2 injection simulations. He quantified incremental oil to be recovered due to CO2 injection and the volume of CO2 that can be stored in the reservoir. He conducted EOR screening studies for multiple reservoirs in Malaysia.
Bhangale integrated geologic, production, and surveillance data for two super-giant oil reservoirs in Abu Dhabi. He identified bypassed oil regions and candidates for workover and infill operations. He recommended re-allocation of water injection rates for sectors to achieve more efficient performance.
As part of an exploration team that conducted hydraulic fracturing operations for an unconventional gas reservoir in Oman, he analyzed DFIT data and designed a multi-stage fracturing treatment. He supervised hydraulic fracturing treatment operations and executed the designed fracturing program successfully.
For an E&P operator during the exploration and evaluation phase of a naturally fractured reservoir in Kurdistan, he performed rate transient and material-balance analyses to estimate in-place volumes. He identified key uncertainties and designed a phased field development plan to address those uncertainties.
Bhangale evaluated field operating strategies such as blowdown, full gas cycling, and partial gas cycling for a gas-condensate field in Alaska. He performed detailed mechanistic models to evaluate the effects of condensate dropout, non-Darcy flow, and other mechanisms on well performance.