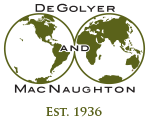 Worldwide Petroleum Consulting

Eric W. Bryan
Eric W. Bryan joined DeGolyer and MacNaughton in 2020 as an engineer in the North America Division. Prior to joining D&M, Bryan worked as a production engineer at Marathon Oil.
Bryan earned his bachelor's degree in petroleum engineering from Colorado School of Mines in 2017. In May 2020, Bryan earned his master's degree in petroleum engineering from Texas A&M University. His research primarily focused on production forecasting in unconventional reservoirs. Bryan is a member of the Society of Petroleum Engineers.
Geographical Experience
Topical Areas of Expertise
Unconventional reservoirs
Well performance analysis
Production forecasting
Rate transient analysis
Reserves and resources evaluations
Numerical modeling

Major Projects
Bryan's work focuses primarily on well performance analysis in unconventional reservoirs using analytical and numerical modeling, coupled with production diagnostic techniques. His research led to the development of analysis techniques to assist with the interpretation of poor-quality production data.
Bryan has a broad background in well performance analysis for nearly all of the major shale and tight gas systems across North America (Bakken, Eagle Ford, Haynesville, Marcellus, Wolfcamp). He works extensively with PHDWin and Citrine to develop reserves estimates based on development plans, decline-curve analysis, well performance diagnostics, and economics.