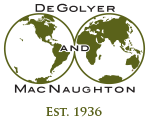 Worldwide Petroleum Consulting

Thao Bui
Thao Bui joined DeGolyer and MacNaughton in 1996. Bui uses his knowledge of computer hardware, Microsoft operating systems, computer software, and IT system maintenance to ensure that the firm's computer system is functional and up to date in order to meet the needs of its offices. He is a Novel-certified network engineer, Microsoft-certified systems engineer, and certified for Windows NT and 2000.
Prior to joining D&M, Bui worked as an IT professional at CE Services, working with IBM mainframes, line printers, and IBM personal computers as a service technician.
Bui graduated with an Associate of Applied Science in electronic technology from TCJC College in Fort Worth, Texas in 1986.