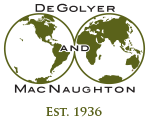 Worldwide Petroleum Consulting

Alexander F. Burns
Alexander F. Burns joined DeGolyer and MacNaughton in 2013. As editor, he reviews the firm's reports, letters, and communications for grammar, clarity, and consistency.
Prior to joining D&M, Burns worked as a paralegal at a law firm specializing in oil and gas title opinions. He provided copyediting expertise and reviewed legal opinions for grammar and consistency with recorded documents. Before his entry into the oil and gas industry, he worked in publishing as a content editor, typesetter, and graphic artist.
In 2004, Burns received a bachelor's degree in English composition from the University of North Texas.