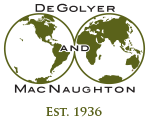 Worldwide Petroleum Consulting

Mariia Bychina
Mariia Bychina joined DeGolyer and MacNaughton in 2019 as a petroleum engineer in the Reservoir Studies Division. Prior to joining D&M, Mariia worked for Russian operator and service companies.
Bychina completed her master's degree in applied mathematics and computer science from Tomsk Polytechnic University in Tomsk, Russia in 2011. She earned a Ph.D. in petroleum engineering from the University of Houston in 2019. She is a member of the Society of Petroleum Engineers (SPE). She was named a Vice President of D&M in 2022.
Geographical Experience
Algeria
China
Russia
United States
Topical Areas of Expertise
Pressure transient analysis
Production performance analysis
Artificial lift optimization
Waterflood management
Fracture engineering analysis
Major Projects
Working for Weatherford International in Moscow, Bychina simultaneously worked on multiple field development plans for the major oil and gas companies operating in Western Siberia. While working at Ruspetro in Moscow, she worked on gas-condensate and oil field development with waterflood.
During Bychina's graduate research at the University of Houston, she developed a model for before-closure linear flow observed on diagnostic log-log plots during fracture calibration testing.
Bychina has published nine papers, including most recently "Production Optimization Using Machine Learning in Bakken Shale" at URTeC in Houston, USA in 2018.