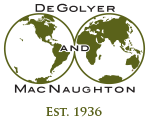 Worldwide Petroleum Consulting

Logan Caillouet
Logan Caillouet joined DeGolyer and MacNaughton in 2018 as a petroleum engineer in the Reservoir Studies Division. Prior to joining D&M, Caillouet interned with the firm during the summer of 2017.
Caillouet graduated with a bachelor's degree in petroleum engineering from Louisiana State University in 2018. He is a member of the Society of Petroleum Engineers.
Geographical Experience
Kuwait
United States (onshore)
 Topical Areas of Expertise
Unconventional resources
Well performance analysis
Reserves and resources evaluations
Major Projects
Caillouet has assisted in integrated studies involving probabilistic analysis, screening field development options, and EOR evaluation. He has experience in the simulation of gasflood, chemical flood, and steamflood operations.
He has general knowledge of modeling primary and secondary oil recovery processes in conventional and unconventional reservoirs using CMG reservoir simulation software.