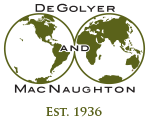 Worldwide Petroleum Consulting

Rafael G. Cavero
Rafael Cavero joined DeGolyer and MacNaughton in 2015 as a petroleum engineer with extensive knowledge of Latin American petroleum projects. Prior to joining D&M, Cavero was a reservoir engineer for Petrolera San Jose. He began his career in the industry with Petrobras Energia in Peru as reservoir and production engineer. He was also Reservoir Engineer for Pan American Energy in Buenos Aires working in the Cerro Dragón field in the Golfo San Jorge Basin, participating in the implementation of new waterflooding projects, surveillance of existing projects, and planning and monitoring the drilling and workover activities.
Cavero graduated with honors from the National University of Engineering (UNI) in 2002, where he received his bachelor's degree in petroleum engineering. He also graduated from Heriot-Watt University, where he received a master's degree in Reservoir Evaluation and Management in 2015. He has been a member of the Society of Petroleum Engineers since 2003. He is fluent in Spanish, English, and Portuguese.
Geographical Experience
Argentina
Colombia
Ecuador
Mexico
Peru
Saudi Arabia
United States
Topical Areas of Expertise
Reserves certification
Production planning
Application of PRMS and SEC guidelines
Volumetric and material-balance calculations
Production performance analysis
Waterflooding
Reservoir Simulation
Drilling and workover activities
Major Projects
During the last period in Pan American Energy, Cavero was part of a multidisciplinary team (geophysicists, geologists, and engineers) dedicated to the management of mature fields, reservoir characterization, study and surveillance of waterflooding projects, drilling proposals (exploratory and infill), and workovers in the central blocks of the field.
He has also participated in technical and economic evaluations for the acquisition of exploration assets in the U.S. (shale oil/gas) and developed assets in Europe (carbonate reservoirs).