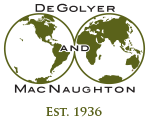 Worldwide Petroleum Consulting

Chris M. Boland
Chris M. Boland joined DeGolyer and MacNaughton in 2011 as a petroleum engineer specializing in the estimation and appraisal of reserves. He was elected a Vice President of D&M in 2016. Prior to joining D&M, Boland worked at the engineering firm FESCO, Ltd. specializing in PVT fluid studies, analytical laboratory procedures, and well testing.
Boland graduated with honors from the University of Texas at Austin in 1998 with a bachelor's degree in chemical engineering. He is a member of several professional organizations, including the American Institute of Chemical Engineers, the National Society of Professional Engineers, and the Society of Petroleum Engineers. Additionally, Boland is a member of the Tau Beta Pi national engineering honor society.
Geographical Experience
Albania
Algeria
Bulgaria
Denmark
Germany
Italy
Kazakhstan
Middle East
Nigeria
Norway
Romania
Russia
Saudi Arabia
Spain
Tunisia
Turkey
Ukraine
United Kingdom
United States

Topical Areas of Expertise
Volumetric analysis
SEC, NI 51-101, and PRMS guidelines
PVT analysis
Unconventional shale resources
Gas deliverability modeling
Probabilistic analysis of reserves
Material-balance analysis
Recovery factor correlations
Decline-curve analysis
Black oil simulation
Fractional flow
Competent Person's Reports

Major Projects
Estimated reserves in the Thrace and Southeast Basins of Turkey according to SEC and NI 51‑101 guidelines utilizing both decline-curve and volumetric analyses.
Performed evaluation of contingent resources in the Ortakoy Block of Turkey according to PRMS criteria based on probabilistic analysis.
Conducted reserves calculations for a multitude of geologically complex fields in Algeria, Nigeria, Russia, and the Middle East utilizing recovery factor analogies and correlations.
Incorporated gas deliverability modeling to estimate reserves for relatively large fields in the Dnieper-Donets and Northern Carpathians Basins of Ukraine.
Integrated black oil simulation results to estimate reserves for the Tengiz field in Kazakhstan.
Developed performance type curves based on diagnostic tools for the Haynesville, Eagle Ford, and Niobrara unconventional shale plays in North America.