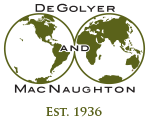 Worldwide Petroleum Consulting

Aric B. Cunningham
Aric B. Cunningham is Deputy Director of DeGolyer and MacNaughton's Moscow branch office. He joined D&M at the end of 2017 and leads a team of engineers and geoscientists working in the Reservoir Studies Division on Russian projects. He trained and worked in various technical disciplines, including petrophysics, reservoir engineering, and commercial roles with BP exploration for 25 years across the United States (Alaska), Europe (Scotland), the Middle East (Kuwait), and Russia (within TNK-BP). In addition, he worked in several technical Chief Operating Officer and Chief Executive roles in Russia, the Czech Republic, Georgia, and Ukraine.
He graduated from the University of California Berkeley with a bachelor's degree in geology in 1981, and in 1984 with a master's degree in geology. He earned his MBA from the University of Aberdeen/Robert Gordan's institute, Scotland. He is a lifetime member of the Society of Petroleum Engineers.
Geographical Experience
Czech Republic
Georgia
Germany
Kazakhstan
Kuwait
North Sea
Russia
Ukraine
United States (Alaska)
Topical Areas of Expertise
Petroleum economics
Reservoir engineering
Field development planning
Strategy
Mergers and acquisitions evaluation
Major Projects
Cunningham has led and contributed to many large greenfield and brownfield development and reservoir management studies, as well as unconventional development programs, most recently in Russia. He has led mergers and acquisitions technical evaluation teams, and contributed to technical teams developing scenarios for major fund raising efforts.