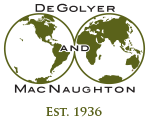 Worldwide Petroleum Consulting

Federico Dordoni
Federico Dordoni joined DeGolyer and MacNaughton in 2012 as a petroleum engineer. Previously, he worked for Pluspetrol, ENI, and Chevron, where he gained broad experience in reservoir management and production operations. Dordoni is an expert on the estimation of reserves and resources based on the requirements of the United States Securities and Exchange Commission (SEC) and the Petroleum Resources Management System (PRMS), leading evaluations, conducting seminars, and teaching industry courses on the estimation, classification, and categorization of reserves and resources under SEC and PRMS. He oversees all of D&M's Asia-Pacific / Latin America activities.
Dordoni graduated with honors from the Buenos Aires Institute of Technology (ITBA) in 2004, earning a degree in petroleum engineering with academic scholarships. He is a member of the Society of Petroleum Engineers (SPE) and serves on the Board of Directors of the Society of Petroleum Evaluation Engineers (SPEE). He is fluent in Spanish and English and also speaks Portuguese, French, and Italian. Dordoni is a Certified Petroleum Engineer by the SPE and a licensed Professional Engineer in the State of Texas. He was elected a Senior Vice President of D&M in 2020 and Executive Vice President in 2022.
Geographical Experience
Angola
Argentina
Australia
Bolivia
Brazil
Chile
China
Colombia
Ecuador
Guatemala
Guyana
India
Malaysia
Mexico
Pakistan
Peru
Suriname
Trinidad and Tobago
United States
Vietnam
Venezuela
Topical Areas of Expertise
Reserves and resources evaluations
Business planning
Decision analysis
Reservoir management
Waterflood design and operation
Well completion
Major Projects
In 2014, Dordoni was the project leader for D&M as it assisted the National Hydrocarbon Commission in Mexico (CNH) with its efforts during Round Zero and Round One. In Round Zero, Dordoni worked with a multidisciplinary group of D&M professionals and representatives from the Mexican government to assist CNH with its assessment of which exploration areas and fields should be retained by Pemex. After this initial process, CNH engaged D&M as technical advisor during Round One to assess the potential value of dozens of onshore and offshore oil and gas fields and exploration blocks in preparation for the first licensing round for the country.
Between 2008 and 2011, Dordoni was Lead Petroleum Engineer with Chevron for the Takula Asset, the first super giant waterflood field offshore Angola, where he and his team developed and executed the waterflood optimization and realignment project of the Upper Vermelha reservoir, successfully arresting the decline of this large mature offshore field. Due to his knowledge on this area, Dordoni participated in numerous peer reviews for green-field and brown-field development activities offshore Angola.