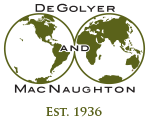 Worldwide Petroleum Consulting

Jeffrey J. Enyart
Jeffrey J. Enyart has performed geophysical studies of numerous oil and gas fields around the world. He joined DeGolyer and MacNaughton in 1995 and is responsible for coordinating the transfer of data from clients worldwide, supervising the loading of data into the Geoquest IESX software, maintaining all networked Sun workstation hardware, performing upgrades to Solaris operating systems, and installing all new software and upgrades for the geophysics group.
From 1991 to 1995, Enyart worked as a consulting geophysicist/geologist for Mobil Exploration and Production Co. He performed field analog studies of the Green Canyon area in the Gulf of Mexico. He used a Landmark workstation to map those deepwater fields and integrated the well data with the seismic information. Enyart also worked for Amoco Production Co., using a Geoquest workstation to interpret three-dimensional seismic data acquired from Cedar Lake field in Gaines County, Texas. The work involved modifying the model of the field geology and using the seismic data to propose additional development drilling. At Hunt Oil Co., he interpreted geological and engineering data to develop domestic oil and gas properties in California, Louisiana, Texas, and Wyoming.
For 3 years before that, Enyart was a field engineer at Atlas Wireline Services where he operated open-hole logging equipment to log wells. He supervised logging crews, analyzed log responses, and recommended equipment usage. Enyart also tested and debugged electronic equipment.
Enyart has achieved the system administrator level of proficiency on Sun Solaris and is able to write scripts in sed and awk. He is proficient in programming in BASIC, FORTRAN 77, and FORTRAN 90. Enyart is also familiar with the Geoquest IESX and CPS–3 software as well as Landmark Seisworks, Zycor ZMAP plus, GMA LOGM, Z&S Recall, Dynamic Graphics Earthvision, Terrasciences Terrastation, and NEUROLOG log and map digitizing softwares.
Enyart received a bachelor's degree in geophysics from Texas A&M University in 1985 and is completing his master's degree in geophysics at the University of Texas at Dallas. He is a member of the Society of Exploration Geophysicists, the American Association of Petroleum Geologists, the Dallas Geophysical Society, and the Dallas Geological Society. He was elected a Vice President of DeGolyer and MacNaughton in 1999.