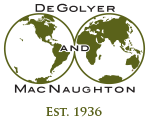 Worldwide Petroleum Consulting

Michael A. Eubanks
Michael A. Eubanks joined DeGolyer and MacNaughton in 2005, specializing in reserves estimation.
Eubanks graduated in 2005 with a bachelor's degree in petroleum engineering from The University of Texas at Austin. He is a member of the Society of Petroleum Engineers and a member of the Society of Petroleum Evaluation Engineers. A registered professional engineer in Texas, Eubanks became a Vice President at D&M in 2012.
Geographical Experience
Algeria
Azerbaijan
Hungary
Kazakhstan
Poland
Russia
Saudi Arabia
Ukraine
United States
Uzbekistan

Topical Areas of Expertise
Economic evaluations
Gas-deliverability modeling
Production forecasting
Waterflood recovery

Major Projects
Eubanks has carried out reserves estimation and economic evaluations throughout Russia and other countries of the former Soviet Union. He has worked in most regions of Russia, with extensive expertise in the Samara and Tomsk regions as well as various fields in Western and Eastern Siberia. His experience encompasses reserves estimations, appraisals, and production forecasting for numerous clients, including private companies, state-owned companies, and prominent financial institutions.
He most recently helped manage a major oil and gas reserves appraisal for a major oil company within Russia. This work involved coordinating with a multidisciplinary team on a project with over 1,000 fields and presenting the client reports under both SEC reserves regulations and PRMS reserves guidelines. With this same client, Eubanks helped coordinate the economic evaluation of more than 1,650 oil and gas prospects, including major Arctic offshore plays.
In the U.S., he has evaluation fields in Alaska, Mississippi, Texas, and Wyoming. The fields included the Gwinville field in Mississippi, as well as the Buffalo Wallow field in the panhandle of Texas. The work in Alaska was an analysis of potential reserves remaining in the McArthur River field. The work in Wyoming entailed estimating contingent resources of a major methane/helium field that contained a high percentage of carbon dioxide.