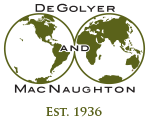 Worldwide Petroleum Consulting

Scott E. Evans
Scott E. Evans joined DeGolyer and MacNaughton in 2007, joining the team as a specialist in computer programming and database design. Primarily working in the Central Europe and Asia Division, Evans assists in writing routines and performing database management for geologic and engineering data.
Evans graduated with honors from Texas A&M University with a bachelor's degree in physics in 2001 and a master's degree in mathematics in 2008.
Geographical Experience
Algeria
China
Colombia
Kazakhstan
Romania
Russia
Ukraine
United States
Venezuela
Vietnam
Topical Areas of Expertise
Reserves forecasting applications
Economic evaluation applications
Database conversions
Software applications and languages (VB.NET, C#, SQL Server, PHDWin, ARIES, Microsoft Access)
Major Projects
With D&M, Evans has written a production forecasting solution conforming to both SEC and PRMS guidelines. In addition to providing decline-curve and charting tools, his application enables accurate and automated integration of volumetrics data into the forecasting process. Intended for use with large-field reserves, the incorporated algorithms allow for control on a per-well basis, including tracking of completion histories, optimized well scheduling and prioritization of client development plans, and decline-curve adjustments for improved scenario estimations. Designed for the multiple-data environments that D&M encounters in serving clients around the globe, the program interfaces directly with PHDWin and other local and server database platforms. Though primarily designed for Russian assets, his software has been utilized for fields in multiple regions of the world.
Evans' other projects include implementing an economic model that generates future cash flows from field reserves and development plans. Targeting Russian petroleum laws and operations, the application models all relevant fuel, operational, capital, tax, and market considerations. It provides analysis tools such as real-time sensitivity evaluations of economic reserves adjustments and the ability to compare multiple real-world scenarios. Evans has also developed an application for converting PHDWin databases to an ARIES-compatible format for North American assets.
Evan's latest work is a database solution providing management and integration of a project's reserves and revenue projections during an entire project life cycle, with an emphasis toward generating published reports compliant with SEC and PRMS guidelines. Though originally utilized for Russian projects, its setup possesses the flexibility to manage projects located anywhere in the world and employs several features and routines, including report table designers and text markup, Excel interoperability, unit conversions, reserves allocations, category and forecast arithmetic, economic cutoffs, etc., to minimize the effort required in creating customizable compares and reports.