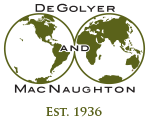 Worldwide Petroleum Consulting

Brady K. Feltch
Brady K. B. Feltch joined DeGolyer and MacNaughton in 2010 as an economic analyst to assist in the appraisal of international oil and gas properties in the Asia-Pacific Latin America division. Prior to joining D&M as a full-time economist, Feltch worked as an intern in both Hunt Oil Company and Cimarex Energy.
Feltch graduated from the University of Oklahoma with a bachelor's degree in business administration in 2008. He double majored in international business and petroleum land management. In December 2018, Feltch was awarded a master's degree in energy management and a master's degree in business administration from the University of Texas at Dallas. He is a member of the Association of International Petroleum Negotiators (AIPN). He is fluent in Portuguese and conversational in Spanish.
Geographical Experience
Azerbaijan
Brazil
Colombia
Indonesia
Mongolia
Peru
Topical Areas of Expertise
Economic modeling
Taxation
Financial reporting for stock exchanges
Major Projects
Since arriving at D&M, Feltch has performed economic evaluations in a wide range of petroleum-producing regions.
Feltch has developed economic models that take into account region-specific petroleum fiscal regimes, taxation, and applicable reporting guidelines, such as those of the U.S. Securities and Exchange Commission, Alberta Securities Commission, and the London Stock Exchange. These models aid in the estimate of the fair market value of oil and gas assets.