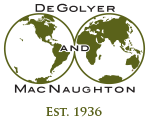 Worldwide Petroleum Consulting

Juan Pablo Francos
Juan Pablo Francos joined DeGolyer and MacNaughton in 2018 as a petroleum engineer after 6 years working as a reservoir engineer for Schlumberger. Francos' expertise includes conventional and unconventional reservoir simulation.
Francos graduated from the Buenos Aires Institute of Technology (ITBA) in 2012, where he received his degree in petroleum engineering with an academic scholarship from ITBA and Petrobras. He has been a member of the Society of Petroleum Engineers since 2008. He is fluent in Spanish and English. He was named Vice President of DeGolyer and MacNaughton in 2022.
Geographical Experience
Argentina
Bolivia
Brazil
Colombia
Mexico
United Kingdom
Topical Areas of Expertise
Reservoir engineering
Reservoir simulation
Field development planning.
Reserves and resources evaluations
Unconventional resources
Waterflood design and operation
Uncertainty analysis and optimization
Major Projects
Since his arrival at D&M, Francos has conducted reserves evaluations for clients in Latin America in accordance with the United States Securities and Exchange Commission (SEC) and the Petroleum Resources Management System (PRMS) for conventional and unconventional reservoirs. He has estimated oil and gas reserves using standard engineering methods such as volumetric calculations, material balance, reservoir simulation, and production-performance analysis.
Prior to joining D&M, Francos acted as the Reservoir Engineering Business Owner for the Latin America South Geomarket with Schlumberger and was responsible for coordinating the engineering team and developing the simulation business in the region. He also worked as a reservoir simulation engineer, providing technical support, delivering training courses, and carrying out consultancy projects for different clients worldwide. Some of these projects included the history-matching and production forecasting of the San Alberto gas field, a naturally fractured reservoir in Bolivia operated by Petrobras; the well spacing optimization for the Barrosa Norte field, a tight gas field in Argentina operated by YPF; and the field development optimization of a multi-layered reservoir under waterflood located in Colombia.