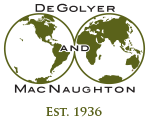 Worldwide Petroleum Consulting

Donna G. Freyder
Donna G. Freyder has worked with DeGolyer and MacNaughton since 2005, bringing a wide range of petroleum engineering expertise. Prior to joining D&M, she worked for 12 years as an independent petroleum consultant after completing a 17-year career with ARCO. She is a Division Manager of the Reservoir Studies Division.
Freyder received a bachelor's degree in petroleum engineering from the University of Missouri – Rolla in 1983. She is a member of the Society of Petroleum Engineers. She has served on numerous committees, including editorial positions. She was Co-Chair of the SPE ATC Pressure Transient Testing Technical Session and Co-Author of the SPE Petroleum Engineering Handbook, with contributions to the coal bed methane section. She co-authored a technical paper for publication in the Journal of Petroleum Technology. Freyder served as Adjunct Professor for the Ellison Miles Geotechnology Institute at Brookhaven College, where she developed and taught the engineering section of a course in appraising coalbed methane reservoirs. She was elected a Vice President of D&M in 2016 and Senior Vice President in 2022.
Geographical Experience
Algeria
Australia
Brazil
China
Colombia
Congo
Ghana
India
Indonesia
Kuwait
Libya
Mexico
Mozambique
Nigeria
Russia
Saudi Arabia
Ukraine
United Kingdom
United States
Topical Areas of Expertise
Pressure transient design and analysis
Reserves estimation
Field development studies
Property valuation
Numerical reservoir simulation
Coalbed methane reservoirs
Analysis of improved oil recovery mechanisms
Major Projects
With D&M, Freyder has contributed to projects for the Raguba field in Libya; the Krasnoleninskoye and Kolvinskoye fields in Russia; the Enyenra, Ntomme, and Tweneboa fields in Ghana; the Buzios, Guara, Carioca, and Tubarao-Martelo fields in Brazil; the Barquentine, Lagosta, and Golfinho-Atum fields in Mozambique; the Acordionero and Chichimene fields in Colombia; the Khafji and Wafra fields in Kuwait; and the Krishna Godavari field in India.
She has worked on several Algerian fields, including the Hassi Messaoud, Hassi Guettar, Bhiret Asissa, Draa Ed Doui, Rhourde Chegga, and Rhourde El Baguel fields. Freyder contributed to the reservoir model and conducted forecast simulation cases for the Hassi Messaoud field. Freyder contributed to the reservoir model and forecast simulation cases for the Rhourde El Baguel enhanced oil recovery study.