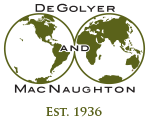 Worldwide Petroleum Consulting

Pablo H. Gentil
Pablo H Gentil joined DeGolyer and MacNaughton in 2021 to perform reserves and resources evaluations with the Asia-Pacific Latin America Division. Prior to joining D&M, Gentil worked at Repsol-YPF for 9 years and at ENI for 16 years, completing assignments in Europe, North America, and South America.
Gentil graduated from Buenos Aires Institute of Technology (ITBA) in 1994, where he received his degree in petroleum engineering. In 2005, he received a master's degree in Petroleum Engineering and Geosystems from the University of Texas at Austin. He is also a 2021 alumnus of the Global Energy Leadership Program from Rice University. Gentil is a member of the Society of Petroleum Engineers. He is fluent in Spanish, English, and Italian and knowledgeable in Portuguese.
Geographical Experience
Angola
Argentina
Brazil
Egypt
Mexico
Portugal
United States

Topical Areas of Expertise
Reserves certification
Application of PRMS and SEC definitions
Volumetric and material-balance calculations
Production-performance analysis
Waterflooding
Reservoir simulation
Field development

Major Projects
Prior to joining D&M, Gentil acted as Reservoir Manager and Local Reserves Evaluator for Eni's Mexico and Alaska Business Units. He also worked as Lead Reservoir Engineer for Galp. During his 20-plus years of international experience, he has led multidisciplinary subsurface teams in high-caliber onshore, offshore, and arctic development projects.
Other roles at Eni included Reservoir Project Manager for the Belayim field waterflood project and Senior Simulation Engineer in the North Africa Studies group.
Gentil started his career at YPF, in Argentina, as a petroleum engineer with exposure to gas processing, drilling and completion, hydraulic fracturing design, and EOR projects. He had a relevant role in the debottlenecking of the Loma La Lata field.