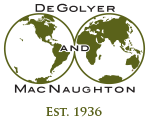 Worldwide Petroleum Consulting

Mojtaba Ghasemi
Mojtaba Ghasemi joined DeGolyer and MacNaughton in 2012. Prior to joining D&M, he worked as a research assistant, studying methods to enhance computational efficiency of reservoir simulators, and as a university instructor, teaching college courses in computer programming, thermodynamics, and petroleum engineering.
Mojtaba graduated with honors from Sharif University of Technology in 2009, receiving a bachelor's degree in petroleum engineering. In 2012, he received a master's degree in petroleum engineering from the University of Texas at Austin. Ghasemi is a member of the Society of Petroleum Engineers and a licensed professional engineer in the State of Texas.
Geographical Experience
Algeria
Egypt
Kazakhstan
Kuwait
Russia
Ukraine

Topical Areas of Expertise
Reservoir simulation
Waterflood evaluation and management
Reserves assessment
Field development planning

Major Projects
Since joining D&M, Ghasemi has worked on various projects, including integrated field development planning studies for multiple oil and gas reservoirs in the Krasnoleninskoye field in Russia. Among his work in this field, he built, history-matched, and forecast simulation models. He also carried out a conceptual development study using multi-stage hydraulically fractured horizontal wells.
He has performed numerous integrated waterflood studies for various fields and used the results of his analyses for reserves assessments. These studies included engineering analysis, benchmarking of best practices, waterflood maturity analysis, and dynamic reservoir modeling.
He performed a multi-field development study for a suite of four gas fields with a total of 25 reservoirs. In this project, he evaluated multiple development scenarios to improve the economic value of the development plan.
He is also experienced in thermal recovery techniques for high-viscous oil recovery including hot-water injection and steam flooding.