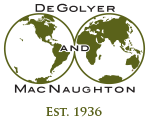 Worldwide Petroleum Consulting

Ginger R. Grimes
Ginger R. Grimes joined DeGolyer and MacNaughton in 2021 as a petroleum engineer to evaluate reserves and resources in the North America Division. Prior to joining D&M, Grimes worked as Senior Reservoir Engineer for Teal Natural Resources and as Reserves Coordinator for Pioneer Natural Resources (Pioneer).
Grimes graduated with a master's degree in petroleum engineering from Texas A&M University in 2016. She graduated with a bachelor's degree in mathematics from the University of Mississippi in 2008. Grimes is a member of the Society of Petroleum Engineers.
Geographical Experience
Topical Areas of Expertise
Unconventional resources
Well performance analysis
Reserves and resources evaluation
Economic analysis
Budget and development planning

Major Projects
Grimes' work has been focused on evaluating producing wells and type-well profiles for undeveloped locations to estimate recoverable volumes and value. This work includes using production-performance diagnostic techniques, decline-curve analysis, and statistics.
Prior to D&M, Grimes worked for 5 years both evaluating and developing internal assets as well as evaluating numerous potential acquisitions. As Pioneer's Reserves Coordinator, she performed evaluations of the Eagle Ford Shale in accordance with the requirements of the SEC and PRMS, and prior to that evaluated multiple basins at Netherland, Sewell, & Associates.