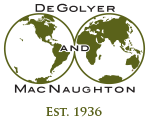 Worldwide Petroleum Consulting

John A. Henthorne
John A. Henthorne is Senior Vice President and Chief Information Officer of DeGolyer and MacNaughton. In that role, he oversees the global IT operations, IT strategy, and digital innovation. He joined D&M in 2018.
Henthorne has over 25 years of IT leadership experience in the energy industry. Prior to joining D&M, he worked as the Manager of IT Strategy & Planning for Phillips 66, where he was responsible for IT strategy, innovation, enterprise architecture, long-range planning, staffing, and the program management office. He has driven change programs and has successfully navigated major acquisitions, dispositions, and spin-offs. He held senior IT leadership roles with ConocoPhillips in the United States and the United Kingdom. He led the IT activities to form the Denali-The Alaska Gas Pipeline LLC as a startup company and served as the CIO.
Henthorne graduated from Texas A&M University in 1989 with a bachelor's degree in computer science. He completed the Cash Catalyst LLC IT Leadership Development program in 2008. He was named a Senior Vice President of D&M in 2020.