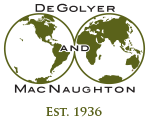 Worldwide Petroleum Consulting

Dr. James J. Hickey
James J. Hickey began working with DeGolyer and MacNaughton in 2006 bringing a specialization in sedimentary petrology with strong quantitative skills and expertise in the evaluation of carbonate reservoirs. Prior to his association with D&M, Hickey served as a geologist and principal with Applied Reservoir Petrology, LLC. From 1983 to 2000, he worked as a geologist with ARCO Oil and Gas Company in Houston and Plano, Texas.
In 1977, Hickey received a bachelor's degree with honors in geology from the California Institute of Technology in Pasadena. He was awarded a doctorate in geology in 1986 from the University of California in Santa Barbara. He is a member of the Society for Sedimentary Geology (SEPM) and the International Association of Sedimentologists.
Geographical Experience
Algeria
Bahrain
China
Colombia
India
Indonesia
Kazakhstan
Kuwait
Libya
Mexico
Norway
Russia
Saudi Arabia
Tunisia
United Kingdom
United States
Topical Areas of Expertise
Diagenetic modeling
Geochemical analysis and basin modeling
Petrography and petrophysics of unconventional reservoirs
Sedimentology and petrography of clastic and carbonate reservoirs
Rock type definition for geocellular modelling
Geological modeling of fractured reservoirs

Major Projects
Among his significant contributions, Hickey has generated, compiled, and interpreted rock data for most major North Slope reservoirs, resulting in a new exploration framework and improved reservoir description models for fields such as Prudhoe Bay, Kuparuk River, Point McIntyre, Aurora, Borealis, Niakuk, Orion, and new Jurassic fields.
He applied and integrated sandstone reservoir quality studies (petrography, porosity prediction, fluid inclusions, organic geochemistry, and basin modeling) to define new play concepts in a "mature" area of Colombia and to guide reservoir modeling in the Tangguh gas field of Indonesia and in several major Algerian oil fields. His experience with carbonate reservoirs includes ramp and platform depositional settings as well as fractured and tight reservoirs in areas such as the U.S. Gulf Coast and Permian Basin, the Volga-Urals, Timan-Pechora, and Eastern Siberian Basins in Russia, the Middle East, and the Golden Lane in Mexico.
His experience in unconventional reservoirs includes studies of geological, petrophysical, and geochemical aspects of shale units in the U.S. (Barnett, Haynesville, Marcellus, New Antrim), Colombia (La Luna), Russia (Western Siberian, Volga-Urals, and Middle Caspian Basins), North Africa (Silurian and Devonian shales in Algeria and Tunisia), the Arabian Gulf, and China (Sichuan Basin). The focus of these studies ranged from the identification of prospective resources to reservoir modeling and field development planning.