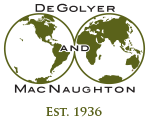 Worldwide Petroleum Consulting

Dr. Ali Jamali
Ali Jamali joined DeGolyer and MacNaughton in 2018 as a petroleum engineer in the Reservoir Studies Division. Prior to joining D&M, Jamali was a teaching and research assistant at Texas Tech University, where he published more than 10 technical conference and journal papers.
Jamali received a bachelor's degree in petroleum engineering from Sharif University of Technology in 2012 and a master's degree and doctorate in petroleum engineering from Texas Tech University in 2014 and 2018, respectively. Jamali is a member of the Society of Petroleum Engineers.
Geographical Experience
Algeria
Canada
India
Russia
United States
Topical Areas of Expertise
Reservoir simulation
Field development planning
Waterflood and gas flood management
Reserves estimation
Enhanced oil recovery
Well-log analysis
Major Projects
Since arriving at D&M, Jamali has focused primarily on reservoir simulation, field development planning, and reserves estimation. He has constructed, history-matched, and forecast full-field models and sector models for oil, gas, and gas condensate reservoirs in Russia and Algeria under primary, secondary, and tertiary recovery. He has conducted field development plan studies for infill drilling optimization, reserves upgrade assessment, and facility planning.
Furthermore, he has investigated vertical, horizontal, multi-lateral, and fish-bone developments at various recovery stages, and optimized development for stacked reservoirs with permeability contrast and commingled production. He has assessed vertical and areal production and injection interference for well spacing optimization using dynamic reservoir models and evaluated development scenarios for infill drilling and facility expansion under water-alternating-gas processes. Finally, Jamali has completed several reserves estimation projects in accordance with the SEC and PRMS.
During his master's and doctorate work, he conducted research on improving recovery from mature oil fields, carbon dioxide enhanced oil recovery, depressurization in residual oil zone, shale gas wastewater management, well stimulation optimization, oil and gas data analytics, and single-well steam-assisted gravity drainage in unconsolidated oil sands.