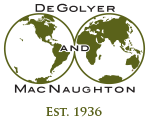 Worldwide Petroleum Consulting

Stephanie R. Johnson
Stephanie R. Johnson is a Vice President and Manager of the Accounting and Human Resources group at DeGolyer and MacNaughton. She manages the day-to-day financial and administrative operations of the firm, as well as managing Human Resources and Immigration matters in the many jurisdictions in which D&M operates. She joined D&M in 2004 as a Financial Accountant and Human Resources Coordinator. Johnson is a member of the Society of Human Resources Management.
Prior to joining D&M, Johnson worked as a staff accountant for Feld Entertainment, Inc., with her primary concentration on asset accounting. Johnson served as a staff accountant for Chubb Security Systems Inc., with her main focus being general ledger reconciliation, analysis, and maintenance. Additionally, Johnson was a cost accountant and financial analyst for The University of Texas Health Center at Tyler. Johnson also worked at Rex-Hide, Inc. as a staff accountant and health benefits coordinator.
Johnson graduated from the University of Texas at Tyler in 1996 with a bachelor's degree in accounting. In 2021, she earned a master's degree in business administration from Abilene Christian University. She was elected as Vice President of DeGolyer and MacNaughton in 2015.