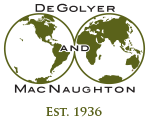 Worldwide Petroleum Consulting

Kyla M. Kossum
Kyla M. Kossum joined DeGolyer and MacNaughton in 2007 to assist in the appraisal of oil and gas properties in the United States and Canada.
Kossum graduated from the University of Houston in 2006 with a bachelor's degree, having majored in both mathematics and economics.
Geographical Experience
Topical Areas of Expertise
Canadian petroleum regimes
Ad valorem tax regimes
Financial analysis
Major Projects
With D&M, Kossum has converted numerous data files between ARIES and PHDWin. She has written macros to convert data to efficiently import into PHDWin and format reports in Excel.
She uses her knowledge of databases to construct effective queries and manipulate data in Access for use in report writing and importing into PHDWin. She has written and modified a macro to map user requested data on a congressional grid in Excel. She analyzes accounting and cost data in order to effectively model prices and expenses.
She has used her knowledge of the Alberta crown royalty regime to build a model in PHDWin to accurately calculate crown royalties. She has also modeled British Columbia crown royalties including the Net Profit Royalty program for multiple clients.