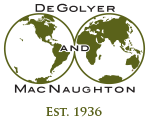 Worldwide Petroleum Consulting

Igor Kuvshinov
Igor Kuvshinov joined DeGolyer and MacNaughton in 2018 after a 20-year career with Halliburton in the United States and in Russia.   
He earned his undergraduate degree in petroleum geochemistry and geology in 1993 from Novosibirsk State University in Novosibirsk, Russia, as well as a specialist diploma, which is equivalent to a master's degree in petroleum engineering.  
Geographical Experience
Algeria
Australia
Brazil
Canada
Japan
Kazakhstan
Russia
United States

Topical Areas of Expertise
Fracture engineering solutions
Production optimization
Enhanced oil recovery techniques
Sand control
Remedial treatments
Pressure transient analysis
Artificial lift
Direct field diagnostic technology (interpretation of microseismic, fiber optic, tracer, and microdeformation surveys)

Major Projects
With D&M, Kuvshinov has provided advanced fracture engineering solutions and implemented production optimization projects on carbonate and clastic reservoirs for new and mature plays.
At Halliburton, he provided advanced fracture engineering solutions for major projects in Siberia and performed fracture feasibility studies in major shale, coalbed methane, and tight sandstone reservoirs in places such as Australia, Brazil, Canada, Russia, and the United States. In total, he has more than 25 years of experience with well stimulation, artificial lift projects, and studying ways to enhance production, as well as implementing those methods during production.