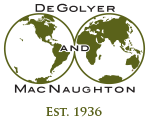 Worldwide Petroleum Consulting

Peter R. Laudon
Peter R. Laudon joined DeGolyer and MacNaughton in 2012 as a specialist in the preparation of geologic, engineering, and economic evaluations on domestic and international oil and gas properties for use by clients in arranging financing, SEC filings, and evaluating potential acquisitions or divestitures. Across his career, Laudon has worked for Halliburton Energy Services, Phillips Petroleum Company, and Chevron. Prior to joining D&M, Laudon was a Partner with LaRoche Petroleum Consultants.
Laudon received his bachelor's degree in geology from the University of Kansas in 1988, his master's degree in geology from the University of Missouri-Columbia/Rolla in 1992, and his bachelor's degree in petroleum engineering from the University of Missouri-Rolla in 1995. He is a member of the Society of Petroleum Engineers, the Society of Petroleum Evaluation Engineers, the American Association of Petroleum Geologists, Society of Independent Earth Scientists, Society of Professional Well Log Analysts, and the Dallas Geologic Society. Laudon is a licensed professional geologist and a licensed professional engineer in the State of Texas.
Geographical Experience
Algeria
Angola
Austria
Brazil
Cameroon
Congo
Egypt
France
Gabon
Italy
Iraq
Kazakhstan
Kenya
Kuwait
Mozambique
Nigeria
Norway
Romania
South Africa
Saudi Arabia
Tanzania
Trinidad and Tobago
Tunisia
Turkey
Uganda
United Kingdom
United States
Venezuela
Topical Areas of Expertise
Unconventional reservoirs throughout the United States
Deepwater turbidite reservoirs focusing on West Africa
Lacustrine reservoirs in the South Atlantic Margin and East Africa
Carbonate reservoirs in the Middle East
Deltaic sandstone reservoirs in Nigeria
The integration of geologic and engineering data associated with reserves evaluations
Economic evaluations
Major Projects
Laudon has worked on various projects and carried out reserves evaluations for oil and gas fields worldwide.