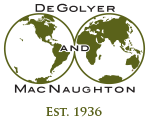 Worldwide Petroleum Consulting

J. Hunter Lockhart
Hunter Lockhart joined DeGolyer and MacNaughton in 2018 after working at BHP for seven years. Lockhart is practiced in classic geologic and geophysical sub-disciplines including mapping, sequence stratigraphy, seismic interpretation, reservoir characterization, and log analysis.
He received a bachelor's degree in geology from Texas A&M University in 2011 and a master's degree in geology from Rice University in 2013. His master's thesis was a study of the stratigraphic and structural evolution of the Great Australian Bight Basin of Southern Australia. He is a member of the Dallas Geological Society, the Society of Petroleum Evaluation Engineers, and the American Association of Petroleum Geologists, where he was Chairman of the Gulf Coast Section Young Professionals from 2015 to 2018. Lockhart is a Certified Petroleum Geologist and a licensed geologist in Texas.
Geographical Experience
Algeria
Angola
Australia
Austria
Barbados
Congo
Egypt
Germany
Guyana
Iraq
Italy
Libya
Mozambique
New Zealand
Nigeria
Norway
Oman
Romania
Saudi Arabia
Sudan
Tobago
Trinidad
Tunisia
Turkey
United Arab Emirates
United Kingdom
United States
Venezuela
Topical Areas of Expertise
Mapping
Log analysis
Seismic interpretation
Reservoir characterization
Reserves evaluations
Major Projects
Lockhart has conducted regional studies across the Caribbean Basin, developing a tectonic framework to describe the structural and stratigraphic history with a focus on deposition and preservation of hydrocarbon-bearing rocks. He was on the team that performed foundational geologic and geophysical work that led to two play-opening discoveries in deepwater Trinidad and Tobago.
He has worked as a field development and operations geologist across four unconventional plays in the United States and played a central role in BHP's $10.8 billion divestment of its entire unconventional portfolio in 2017.
Lockhart has prepared an OOIP estimate of a field in the deepwater Gulf of Mexico as a non-operating partner, influencing a decision to completely divest BHP's interest in the field.