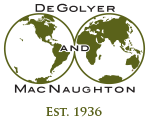 Worldwide Petroleum Consulting

Alexander Malykh
Alexander Malykh joined DeGolyer and MacNaughton's Moscow office in 2012, specializing in reserves estimation and oil and gas property evaluation. Before joining D&M, Malykh was a reservoir engineer for TomskNIPIneft, gaining experience in reservoir simulation and oil production optimization.
Malykh graduated from Tomsk Polytechnic University with a bachelor's degree in oil and gas engineering, and in 2010 he received a master's degree in petroleum engineering from Heriot-Watt University. He is a member of the Society of Petroleum Engineers and is fluent in both Russian and English.
Geographical Experience
Azerbaijan
Kazakhstan
Russia
Ukraine
Topical Areas of Expertise
Reserves estimation
Competent Person's Report preparation
Gas deliverability modeling
Production analysis
Field development optimization
Reservoir performance analysis
Enhanced oil recovery
Waterflood analysis
Material-balance analysis
Evaluation of natural gas storage
Major Projects
Malykh has coordinated integrated evaluation projects for several oil and gas companies in Russia and Azerbaijan, including economic and technical evaluation of reserves projections and field development plan optimization.
He most recently helped manage the oil and gas reserves appraisal for a major oil company within Russia. This work involved coordinating with a multidisciplinary team on a project with over 1,000 fields and presenting the client reports under both SEC reserves regulations and PRMS reserves guidelines.