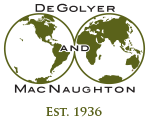 Worldwide Petroleum Consulting

Sravalya Manne
Sravalya Manne joined DeGolyer and MacNaughton in 2023 as a Data Scientist in the Information Technology Division. Prior to joining D&M full time, Manne worked at IBM from 2019 to 2021 and interned at Orbit Analytics while pursuing her master's degree.
Manne earned a bachelor's degree in computer science and engineering from the Gandhi Institute of Technology and Management, India in 2018. She received a master's degree in business analytics from the University of Texas at Dallas in 2023. She is a member of the GUSAC Alumni and served as student chapter CFO at GITAM University.
Geographical Experience
Canada
India
United States
 Topical Areas of Expertise
Data visualization
Data analysis and optimization
Business intelligence
Predictive analytics
 Major Projects
With D&M, Manne plays a pivotal role in leveraging advanced analytics to provide data-driven insights for client projects. She is active in driving automation and efficiencies across D&M's work processes. Additionally, she is highly proficient in data-centric transformation, application integration, and information visualization.
Prior to joining D&M, Manne worked as ERP Data Analyst at IBM focusing on data optimization, reporting, and automating standard processes to improve the resiliency of production environments.