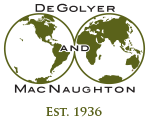 Worldwide Petroleum Consulting

Tina Manning
Since joining DeGolyer and MacNaughton in 2018, Tina Manning has been involved in reserves evaluations in Azerbaijan, Russia, Kazakhstan, Ukraine, and Uzbekistan, as well as prospective resources in Guyana. Prior to joining D&M, Manning worked in various roles at Denbury Resources as a development design geologist primarily focused on reservoir characterization and field development plans, and as a reservoir management geologist focused on field optimization and operations.
Manning received her bachelor's degree from Louisiana State University and her master's degree in geology from the University of Louisiana at Lafayette in 2016. Manning is active in geologic organizations, most recently serving as secretary for the American Association of Petroleum Geologists (AAPG) – Southwest Section in 2020 and 2021. She has served in various officer roles in the Dallas Geological Society since 2015 and was president of the organization in 2019 and 2020.
Geographical Experience
Azerbaijan
Kazakhstan
Guyana (offshore)
Russia
Ukraine
United States (onshore Gulf Coast and Powder River Basin)
Uzbekistan
Topical Areas of Expertise
Reserves evaluation
Reservoir characterization
Subsurface mapping
Enhanced oil recovery
Major Projects
Manning has experience in integrating multidisciplinary data, including geologic, geophysical, petrophysical, engineering, and production data, into applied visual analytics, reservoir models, and reserves and resources evaluations.
She has worked all life cycles of a field from primary, secondary, to tertiary operations. She is proficient in computer-based software such as Petrel, Petra, and Spotfire, where she integrates traditional geologic practices and data analysis into a complete reservoir story.