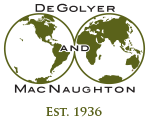 Worldwide Petroleum Consulting

Alexsandra D. Martinez
Alexsandra D. Martinez joined DeGolyer and MacNaughton in September 2015 as a petroleum engineer to evaluate reserves in the North American Division.
Martinez graduated with a bachelor's degree in petroleum engineering from Texas A&M University in 2011. She has been a member of the Society of Petroleum Engineers and serves the role of Vice Chair in the Reservoir Study group for the PSE-Gulf Coast Section. She is fluent in English and Spanish.
Geographical Experience
Topical Areas of Expertise
Well performance analysis
Unconventional resources
Simulation modeling
Geological modeling

Major Projects
Martinez' work has been on evaluating producing wells to determine type curves and recoverable volumes from undeveloped locations. In addition, she has also done well performance evaluation in unconventional resources using production-performance diagnostic techniques.
Recent work has included a number of well performance studies and resources assessments of shale oil and gas plays in North America (Bakken, Codell, Eagle Ford, Haynesville, Marcellus, Niobrara, SCOOP, STACK, Three Forks, Utica, and Wolfcamp).
Prior to joining D&M, Martinez worked for 4 years at Anadarko Petroleum Corporation in the Reservoir Technology Group as an Independent Reservoir Engineer Consultant. Martinez participated in the project planning and data acquisition for all Southern Region microseismic projects completed from 2012 through 2015. Martinez has experience in building single-well geomodels to export and use for simulation. In addition, Martinez performed numerical simulation studies to evaluate drainage area and well spacing in the Haynesville shale and well performance of infill wells in Marcellus shale.