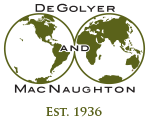 Worldwide Petroleum Consulting

Ryan A. Mauldin
Ryan A. Mauldin joined DeGolyer and MacNaughton in 2012. He is a specialist in reservoir evaluation and petrophysical modeling with worldwide experience. Mauldin was promoted to senior petrophysicist in 2014. Prior to working at D&M, Mauldin worked for Schlumberger and Halliburton.
Mauldin received a bachelor's degree in mechanical engineering from Texas Tech University in 2003. He is a member of the Society of Petroleum Engineers, the Society of Petrophysicists and Well Log Analysts, the American Association of Petroleum Geologists, and the European Association of Geoscientists and Engineers.
Geographical Experience
Angola
Azerbaijan
Brazil
Cameroon
Canada
Congo
Egypt
Gabon
Ghana
India
Iraq
Italy
Kazakhstan
Kenya
Kurdistan
Kuwait
Mozambique
Nigeria
Norway
Romania
Russia
Saudi Arabia
Serbia
Turkmenistan
Ukraine
United States (onshore and offshore)
Uzbekistan
Topical Areas of Expertise
Russian and pre-1960 well-log interpretation
Wellsite operations
Unconventional reservoirs
Incorporation of core analysis, well-test, and geologic data into petrophysical evaluation
Integration of petrophysical studies into geoceulluar modeling and reservoir simulation
Major Projects
Mauldin is an expert in the evaluation of pre-1960 electric logs and Russian well-log data. His methods of evaluation have been applied to fields all over the world utilizing these types of well logs, including the United States, the Middle East, and Russia. His experience in Russia includes work in the Eastern Siberian platform, the Western Siberian Basin, the Timan-Pechora Basin, the Volga-Urals region, the Caspian Sea, Sakhalin, and the Kara Sea.
He has many years of experience in advanced log data acquisition and interpretation. He recently used three-dimensional resistivity data and nuclear magnetic resonance data in field unitization and equity determination projects in the Gulf of Mexico and India, as well as in a complex mineralogical analysis of thin-bedded reservoirs of the North Slope Kuparak River oil field.
As a wireline field engineer with Schlumberger, he gained years of wellsite experience, specializing in horizontal logging of unconventional reservoirs. He participated in the first successful MDT mini-frac and pressure test in the Barnett shale. This in-situ test resulted in a better understanding of stress contrast, pore pressure, and estimated shale permeability in unconventional reservoirs.