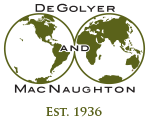 Worldwide Petroleum Consulting

Courtney G. Miller
Courtney G. Miller is Vice President and Contract Specialist of DeGolyer and MacNaughton. In that role, Miller oversees a variety of day-to-day legal matters of the firm, including representing the firm in transactions with clients and outside counsel and drafting and negotiating contractual agreements. Additionally, Miller provides internal counsel on a variety of legal issues.
Miller began her career at D&M in 1998, working with petroleum engineers and geologists in the reservoir simulation division before leaving the firm to pursue legal studies. Miller's legal background focused on oil and gas law, business and corporate law, and domestic and international contract law.
Miller graduated from Texas A&M University in 1997 with a bachelor's degree geography and geoscience and completed studies at Southern Methodist University's Deadman School of Law in 2002. Miller was named a Vice President of D&M in 2016.