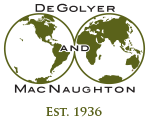 Worldwide Petroleum Consulting

Kali C. Miller
Kali C. Miller joined DeGolyer and MacNaughton in 2018 as an engineering technician and in 2020 she was promoted to engineer for the Asia-Pacific Latin America Division. She previously worked for UGE Energy Services. Miller has experience in the estimation of reserves based on the requirements of the United States Securities and Exchange Commission, the Petroleum Resources Management System, and Canadian National Instrument 51-101.
In 2018, Miller received a bachelor's degree in petroleum engineering and a certificate in engineering leadership from Marietta College in Marietta, Ohio. She is a member of the Society of Petroleum Engineers and she serves on the scholarship committee. She is also a member of the Society of Women Engineers and Women's Energy Network.
Geographical Experience
Colombia
Indonesia
Peru
United States

Topical Areas of Expertise
Reserves and resources evaluations
Type-well analysis
Well performance analysis
Production forecasting
Material-balance calculations

Major Projects
Since joining D&M, Miller has created solutions and aided ongoing efforts alongside engineers and geologists implementing D&M's Big Data Initiative and increasing efficiencies on established jobs. She is proficient in OFM, PHDWin, AutoCAD (2–D and 3–D), FracPro, Harmony, and Citrine, and she is knowledgeable in MBAL and Value Navigator.
For UGI Energy Services, Miller was responsible for completing design tasks, including strength and cost estimation calculations for pipeline and surface facility projects, as well as revising and editing company procedure manuals to ensure that they were in compliance with DOT CFR 49 Part 192 and 195.