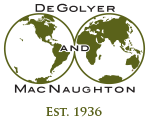 Worldwide Petroleum Consulting

L. Javier Miranda
L. Javier Miranda joined DeGolyer and MacNaughton in 2017. Miranda has more than 23 years of industrial experience as a petrophysicist. He previously worked at BP for almost five years as a reservoir description and operations petrophysicist.
Miranda earned a bachelor's degree with honors from Universidad del Zulia in 1998 and a master's degree from the University of Texas at Austin in 2008, both in petroleum engineering. He also holds a diploma in Integrated Petrophysics from the former PDVSA School of Petrophysics (based on former Amoco Petrophysics School). Miranda served as adjunct professor and lecturer for Formation Evaluation at Universidad Zamora (Venezuela) for three years and graduate research assistant at the University of Texas at Austin Joint Industry Research Consortium on Formation Evaluation for two years.
Miranda is an active member of the Society of Petroleum Engineers (SPE), Society of Petrophysicists and Well Log Analysts (SPWLA), American Association of Petroleum Geologists (AAPG), and Society of Exploration Geophysicists (SEG) with participation and experience in technical meetings organization. He has served as a technical editor for publications such as the SPE Reservoir Evaluation and Engineering Journal and SPWLA Today Newsletter and participated in the management and founding of SPE and SPWLA sections and groups. He is the current President of the SPWLA Houston Chapter, Vice-President of the SPWLA Hydrocarbon Reserves Group and Young Professionals (YP) Group (Chairman), and former officer of the SPE (Southern Venezuela Chapter Chairperson and Founder) and SPWLA (Austin Chapter Industrial Advisor, President and Vice President). Miranda received the SPWLA Meritorious Service Award in 2021. He is fluent in English and Spanish. He was named a Vice President of D&M in 2022.
Geographical Experience
Algeria
Angola
Argentina
Brazil
Chile
Colombia
Guyana
Grenada
India
Malaysia
Mexico
Pakistan
Peru
Russia
Thailand
Trinidad and Tobago
United States
Venezuela
Topical Areas of Expertise
Well-log analysis
Core-log integration
Integrated reservoir characterization of clastic and carbonate reservoirs
Rock type definition
Petrophysical operations (well-log and core-log planning and acquisition)
Multi-mineral analysis
Fractured reservoirs
Heavy oil
Major Projects
Miranda has extensive experience in the Gulf of Mexico, including some of the most prolific fields in the region such as Thunder Horse, Great White, Mars, Ursa, and Kepler. He was part of a multidisciplinary effort to build reservoir models that were used to support the area development plan and was involved in data acquisition, analysis, and integration, including whole and sidewall cores, well logs, and fluid samples.
He started his career with PDVSA, the Venezuelan national oil company, where he was responsible for single- and multi-well petrophysical evaluation, core planning, acquisition and analysis, petrophysical operations, and reservoir modeling of clastic and carbonate reservoirs, from heavy oil to gas fields in different postings and basins.