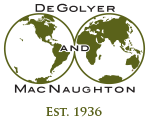 Worldwide Petroleum Consulting

Dr. Rouzbeh G. Moghanloo
Rouzbeh Moghanloo joined DeGolyer and MacNaughton in September 2023 as a senior reservoir engineer, specializing in assisting clients with technical expertise and developing solutions for key challenges associated with commercialization of carbon capture, utilization, and storage (CCUS) and clean hydrogen production and storage. He has served as a subsurface technical advisor for numerous oil and gas operators. Since 2013, he has taught as a professor at the University of Oklahoma.
He earned a bachelor's degree and a master's degree, both in chemical engineering, from Amirkabir University of Technology (Tehran, Iran) in 2001 and 2003, respectively. He received his doctorate in petroleum engineering from the University of Texas at Austin in 2012. He is a member of the Society of Petroleum Engineers and American Chemical Society. He is currently associate editor for the Journal of Natural Gas Science and Engineering and the Journal of Petroleum Science and Technology.
Geographical Experience
Iran
Mexico
Norway
United States
Topical Areas of Expertise
Carbon capture, utilization, transport, and storage
Unconventional shale reservoirs
Natural gas engineering
Reservoir simulation
Flow assurance
Major Projects
Moghanloo led a multidisciplinary team to develop the submission of a Class VI permit application for a stacked storage CCUS complex (CO2-EOR+CCS) in Oklahoma. Through the upscaling of lessons learned from the stacked storage CCUS complex, a detailed CCUS roadmap for the State of Oklahoma, including dozens of potential CCUS pathways to achieve large-scale CCUS, was developed for industry, state government, and other stakeholders to jumpstart CCUS development based on stacked storage.
Recently, he led a multidisciplinary team to establish a CO2 storage hub in northern Oklahoma and addressed how the realization of the proposed storage hub could benefit disadvantaged communities living in that area. Through this project, new optimization software was developed for CO2 transport that helped operators reduce transportation costs by utilizing existing pipelines in the optimization algorithm.
Moreover, he led a team to evaluate the performance of hydraulically fractured wells in major unconventional reservoirs in North America (Barnett, Bakken, Eagle Ford, Haynesville, Marcellus, and Niobrara). As a result of this project, a United States patent application was submitted, and new software was developed to evaluate the performance of fractured wells based on the notion of dynamic drainage volume.
In addition, Moghanloo led a team to advance asphaltene deposition models in the wellbore and near wellbore that cause permeability impairment. Based on the technology developed during this work, a United States patent application was submitted, and new software was developed that radically shifted the focus of deposition models and improved the accuracy of predictions using the particulate nature of crude oil.