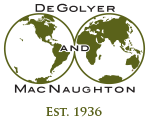 Worldwide Petroleum Consulting

Noberto Monroy
Norberto Monroy joined DeGolyer and MacNaughton in September 2017, accepting the position of business development advisor for the firm's efforts in Mexico. A native of Mexico, Monroy previously worked as a reservoir geologist for a number of exploration and development firms in Mexico, as well as internationally.
Monroy earned his bachelor's degree in geology, with a specialization in petrophysics from the Instituto Politecnico Nacional, Mexico in 1981. He is fluent in Spanish and English. He has been an active member of AIPM, AMGE, and AMGP since 1985.
Geographic Experience
Topical Areas of Expertise
Reservoir characterization
Well-log analysis
Major Projects
Monroy served as Geoscience Manager for Servicios de Extracción Petrolera de Mexico, performing reservoir characterization and preparing the development plan for the Cuichapa and Paso de Oro fields.
He served as the Geologist Advisor for Energia Latina, evaluating the onshore Cuichapa and Paso de Oro fields.
He worked as the General Manager for Pico Mexico Company. He supervised two direct award contracts (one for 3 years and another for 2 years) for workovers using a lift boat for the Cantarell field. Monroy led several teams: Work Over Design, Operational Work Over, Accountant & Finance, HSE, IT, HR, Supply Chain and Contract Administration, and Invoicing. He was responsible for managing relationships with third-party companies like Pemex, Halliburton, Schlumberger, Weatherford, Baker Hughes, and marine companies.
He served as the General Manager and Legal Representative for Petrohusteca Oil Service and as an advisor in exploration processes over the Altamira Block concession, overseeing different oil contract services activities.
As a Manager for Pico Energy Team with Pemex North Region, Monroy was the supervisor for the Altamira Block concession.
Monroy served as the Field Study Manager, reservoir evaluator, and junior recruiter and trainer in Cairo, Egypt.